First day, first case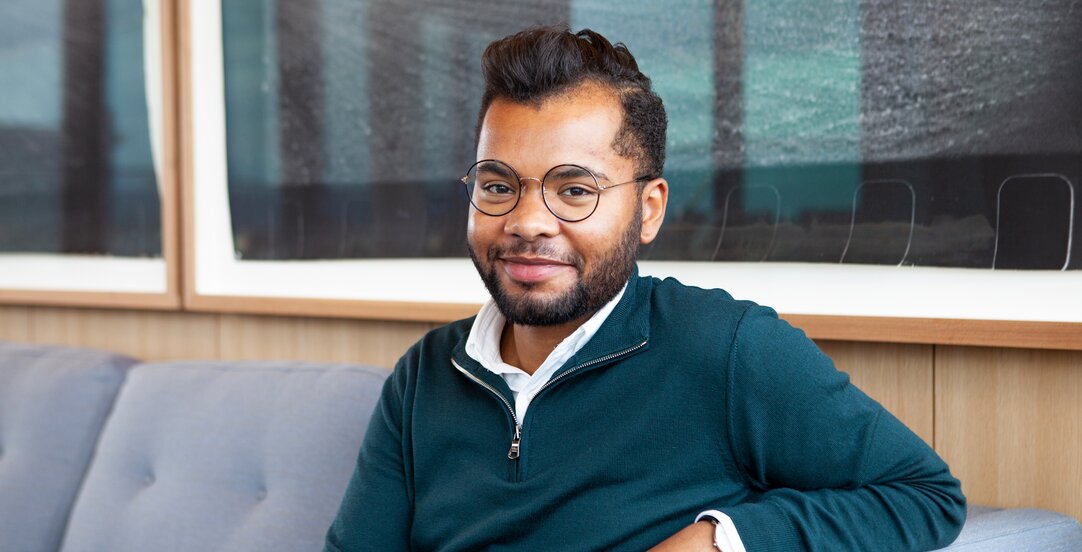 08/10/2020
Patrick Oware had heard rumours that you get your required procedural experience quickly in Wikborg Rein, but he had never thought it would go this fast.
Patrick is 25 years old and comes from Tromsø. After he finished his studies, he moved to Oslo to start as an associate with us. Patrick never doubted where he wanted to start his career. After having met representatives from Wikborg Rein and having been a trainee in several companies - including our offices in Oslo and Bergen - he was sure that this was the company where he wanted to start.
– I was incredibly happy when I got a job offer at Wikborg Rein. It was like a dream come true. The international aspect with offices abroad, the clients, the high professional level, and the fact that there are many young people here, made me have no doubt that this was where I wanted to work.
Patrick says he has had a steep learning curve during his first period of time in the firm. He now works in the competition and procurement law team.
– It has been some very educational months. I have learned a lot about being an associate, but also professionally. This is mainly because I have not worked with these areas of law before. The tempo is high and a lot of exciting things happen all the time.
Patrick continues: – I work with competition law, public procurement and state aid. It is very interesting. We work closely with the participants in the market. When things happens, we are there. From the very beginning, one is almost thrown into partly unfamiliar areas of law and industry, and that is both interesting and very educational.
First litigation case in no time
The vast majority of our associates receive a practicing certificate after two years and have by then had their three court cases. Just hours after Patrick sat down in his new office, he was informed that he had received his first litigation case.
– It was incredible! I think I had been here for approximately two hours when my mentor came into the office and said they had a case for me. Then it was just a matter of getting started and writing a defence pleading right away, says Patrick.
The case subject is the sale of a property where Wikborg Rein represents the seller and his insurance company. The claim concerns alleged defects in the house. The main hearing is planned for early 2021.
Through studies and internships, Patrick has already gained litigation experience.
– We had a number of procedural exercises during my studies in Tromsø, and I have had an internship at Sør-Trøndelag District Court. In addition, I have been present in court through previous traineeships with other law firms, including the Office of the Attorney General. This has made me a little less nervous about the main hearing itself, but being an associate in a case from the writ is filed and until there is a potential judgment in the case is new to me.
Several good support persons
Being a fresh associate and getting a case so quickly can be daunting. Fortunately, Patrick has several persons he can lean on for support.
– I do not work alone on the case. I get all the help I need from Kaspar Nygaard Thommessen, and in addition, Kaare Andreas Shetelig verifies and quality checks the case documents before they leave the house. It is very good to have someone to rely on, both in terms of the procedural rules, but also the material law.
Patrick continues: What I like here, is that Kaspar and Kaare are not the only ones I can ask for help. There are many people with valuable experience and knowledge in the company who always have time to give advice when I need it.
Kaare Andreas Shetelig has been responsible for the litigation cases for the qualification towards practising certificates in the company for 10 years. He keeps a list of the associates and ensures a fair distribution of the incoming cases.
– It was probably a bit coincidental that Patrick got his first case so quickly, but generally we make sure our associates get their three litigation cases during their first two years here. Patrick is a talent we are looking forward to following, and we are confident that he will carry out his first litigation case in a brilliant way, says Kaare.